Syd's Yamaha Guitar in Cambridge Auction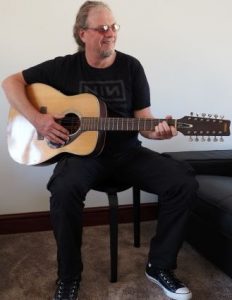 The Cambridge Auctioners, Cheffins, have many pieces of Syd Barrett memorabilia for sale in their next auction on 28th October 2021. One of these lots is a 12-string acoustic Yamaha guitar owned by Syd and which was passed onto his brother, Alan. Alan died last year and it seems timely now to put this guitar up for sale, some 50 years since Syd took enjoyment in its ownership. The reason for the sale is in order to donate the proceeds to two charities equally in the memory of both Syd and Alan. These are the mental health charity, MIND, and the Arthur Rank Hospice.
The sale has been initiated by Alan's son and Syd Barrett's nephew, Mark Barrett, pictured here with the guitar (photo credit, Chris Parnham).
A Brief History of Syd Barrett's Yamaha FG-230 12-String Acoustic Guitar (Serial No. 1090448) by Mark Barrett
The guitar was manufactured in Japan on 21st October 1969 (date stamped inside the body of the instrument). Syd is likely to have bought it either in Cambridge or London.
Syd talked about it and played it during the course of Mick Rock's 1971 interview with him for Rolling Stone Magazine which was conducted in my grandmother's garden in Hills Road, Cambridge (Syd was living a basement studio there at the time).
At the time that my grandmother sold the Hills Road house in late 1974, Syd was not living there and some of his belongings from the studio, including the guitar, a record collection, a turntable and some spotlights were transported to my parent's house just round the corner in Hinton Avenue, for safe keeping. Syd never collected the guitar and my father (his brother) Alan John Barrett continued to store it over 3 subsequent house moves, eventually offering it to me after Syd died in 2006, I finally collected it from my father's house in November of 2020 shortly before my father died.
0
0
Dan
https://www.sydbarrett.com/wp-content/uploads/2022/03/logo-300x138.png
Dan
2021-10-12 13:47:21
2022-09-15 12:43:47
Syd's Yamaha Guitar in Cambridge Auction